---
A clash with England's opening World Cup game against Paraguay. Letters in the local paper. Lorry drivers pulling out two days before the event. Rumours that it is the last Carnival due to houses being built on Meadowside. Just another typical Carnival Day really. Read all about it here once I get the rest of the site updated.
---

1.00 Floats form at Lakes Road
2.00 Judging of Floats
2.00 Sideshows Open at Meadowside
2.00 Kids Choir 2000
2.30 Procession leaves Lakes Road
3.30 Procession arrives at Meadowside
4.00 Grand Opening by Carnival Queen
4.00 Trevor Hill Falconry
4.30 The Essex School of Samba
4.45 Francis Maxey - Clown
5.15 Marxmen
5.30 Trevor Hill Falconry
6.00 Ukan Club (Dance)
6.30 Blue Falcons Gymnastic Display Team
7.15 Live Band - The Jeff Gallant Band
9:00 Grand Draw
9.15 Live Band - The Jeff Gallant Band
10.00 Good Night

Braintree Carnival 2006


Steam Gallopers
Big Wheel
Dodgems
Meteorite
The Eliminator
Super Bob
Corner Ride
Free Fall

Children's Rides
Sideshows
Bouncy Castle
Bacon Sandwiches
Barbeque
---

Class 2a
Voluntary Organisations (under 30ft)
1. 7th Braintree Brownies
2. 1st Bocking St Peters Guides
3. P.A.R.C.
> Braintree & District Mencap
> 158 Squadron ATC Braintree
> Sporting 77 Football Club
Class 2b
Voluntary Organisations (over 30ft)
1. Black Notley Scout & Guide Group
2. 1st, 2nd Braintree & 2nd Bocking Brownies
3. Lions Club

Class 3a
Commercial & Industrial Firms
(under 30ft)
1. Complete Health and Fitness
2. Brian Chinnery Carpets
3. Poulters Taxis
> Brandon Tool Hire
> Roller World
> Jaxx Bouncy Castle
> Curves

Class 3b
Commercial & Industrial Firms
(over 30ft)
1. Benson School of Motoring

Class 4
Dancing Schools and Playgroups
1. White Court Dance Unlimited
2. Sticky Mitts

Class 8
Any person walking in fancy dress
1. Braintree B.M.X. Club
Class 7
Visiting Queens
1. Clacton
2. Stowmarket
3. Witham
h/c Coggeshall
> Kettering
> Dunmow
> Maldon
> Basildon & Pitsea

Chairman's Cup
1. 1st, 2nd Braintree & 2nd Bocking Brownies

Window Display Competition
1st) Helen Rollason Heal Cancer Charity Shop
2nd) Mill House Fabrics
3rd) Hannay Bank Street
h/c) Talking Heads Hairdressers
> R.S.P.C.A Charity Shop
---

My year as Carnival Queen has been very busy but at the same time very rewarding to do. When I was first picked as Carnival Queen I was full of excitement and at the same time full of nerves, as I did not know what was yet to come. Throughout my year as Braintree Carnival Queen I have been to many different carnivals and events, which have all been fun to do as I got to meet all the other Queens. On the day of Braintree Carnival despite the football and the carnival clashing I think there was a great turn out and I don't think we could of asked for better weather. I would just like to say a big thank you to Robert, Pat and the rest of the carnival committee as none of this would of happened without you. Thank you to my two wonderful Princesses Emily and Chloe ? I could not of asked for nicer girls to be with me at every carnival. I hope the next Queen has the same wonderful and fun experience that I have had and wish them the best of luck for the coming year.

This year was the best year of my entire life, I had so much fun. I loved having Emily and Leona right beside me. I have really enjoyed this experience as a Princess, and I hope Leona and Emily did too. Pat and Robert have been fantastic, they have always been there for me along with the other kind people who have accompanied us on our trips. I would like to wish the new Carnival Queen and court a fantastic year, it's been wonderful to live my dream and be a Princess.

When I was picked as Carnival Princess I was so excited. Every Saturday in the summer I was picked up and got taken to different Carnivals. Everybody looked after me and when the judges came they had to look who was the prettiest. We won lots of prizes, I had lots of fun meeting other Queens and Princesses who we had tea with. I would like to say a big thank you to Robert and Pat and Ronnie and Tom who took extra special care of me. Putting up with lots of giggling, chatter, late nights and eye spy in the car. I will miss Leona and Chloe lots but they will always be my friends.
---


| | |
| --- | --- |
| | |
---

Plans are well advanced for the 2006 Footpath Walk. The Walk is a 12 mile stroll over country footpaths and is open to all individuals, Clubs and Organisations who wish to raise money for their cause by obtaining their own sponsorship.
For those who have not joined us before, please read these Notes that have been provided for your perusal.
| | |
| --- | --- |
| Date: | Sunday 10th September 2006 |
| Venue: | Notley Sports Centre, Notley Road |
| Distance: | 20km (12.5 miles) |
| Start: | 9.00 a.m. (latest 9.15 a.m.) |
| Stages: | 12 (refreshments half way) |
---

The following events include those organised or attended by the Braintree and Bocking Carnival and its representatives.
February
Saturday 4th
Party Entertainment
Singing
March
Friday 31st
Carnival Queen Selection
Leona Garratt
April
Saturday 8th
Princess Competition
Chloe Collett
Emily Amos
May
Monday 1st
Bocking Village Fair
Crowning
June
Friday 9th
'Window Display' Judging
June
Saturday 10th
Braintree Carnival
Picture Gallery
June
Saturday 17th
Brightlingsea Carnival
June
Saturday 24th
Great Bentley Carnival
July
Saturday 8th
Deanery Nursing Home
Visit
July
Saturday 15th
Coggeshall Carnival
August
Saturday 12th
Clacton Carnival
Court - 3rd
August
Tuesday 15th
Clacton Torchlight
Court - 1st
September
Saturday 16th
Dunmow Carnival
September
Saturday 30th
Burnham Carnival
September
Sunday 10th
Sponsored Walk
Details
---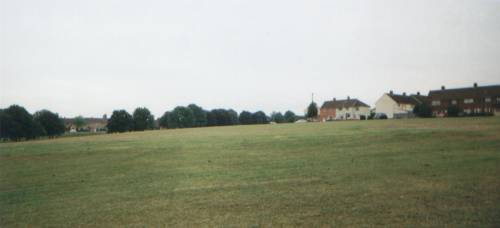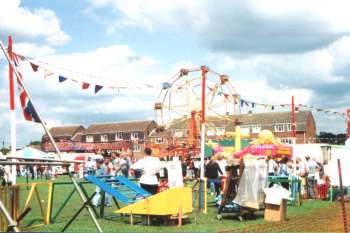 Note: So what happens on a typical Carnival Day? How does Meadowside become transformed from the everyday 'muddy field' into the bustling Carnival field?
Story so far . In previous articles, we have covered the work that goes on a few days before the carnival and on Saturday morning. Everything is now ready, the procession has assembled at Lakes Road and the stalls are ready.
Stallholders arrive. Tickets and prizes are issued and explanations are explained. No sooner have the stalls got going and it is 3:30 and the procession is arriving. You may be aware that recent street collections have been around £2000. This is still primarily made up of 1p, 2p and 5p pieces, which equates to over 40,000 coins (I just made that up but it is probably close). These have to be taken off the lorries from various tins, buckets, cups, fishing nets, hats etc. whilst displaying your i.d. and avoiding being run over by a 40ft. lorry.
The crowds who have been watching the procession all descend upon Meadowside. The Carnival Queen then announces proceeding officially open and things really begin to get going. The next 2 -3 hours are a tad hectic. Hopefully the Carnival stalls are prepared and fully manned by now. Never seem to have quite enough people.
The afternoon wears on. Things break, tickets are needed, items run out, items are lost (even those previously found), stock needs replenishing, fences needs moving, someone needs the Chairman, someone wants paying. Stallholders have to go home and others arrive. More explanations are needed. On hot days - cold drinks are taken round, on cold days - hot drinks are taken round. Regardless of the weather - cakes and sandwiches are taken round. We do try to look after the stallholders.
Late afternoon and things calm down as people go home for tea and for about an hour it is relatively quiet. As evening sets in, the entertainment continues and the crowds return. The field becomes quite busy again.
Evening sets in and stalls begin to close, as stallholders have to go home. There is usually a competition between the hardiest to see who can keep going the longest.
At 9pm the live group that will be performing on stage take a break for the Grand Draw. Although not in the quite the same league as the National Lottery, there is still much anticipation to see who will win the 1st prize. There are usually well over 50 prizes so it takes a good half an hour.
Eventually even the hardiest stallholder has to call it a night and the packing away begins. However, the live group continue their set and the fair continues into the night.
Proceedings are finally drawn to a close at around 10pm and the remaining carnival-goers head off for home. Another year is over but now the real hard work begins . But that's another story.
Note: The following article appeared in the 2006 Programme. Once again it's primary source was the ever dependable t'Interweb.
What can I write this year? So much has changed in such a short time. I have a new job and a new daughter. I was made redundant two weeks after last years Carnival. How very unfortunate you may think, but it's not for the first time. I have been made redundant three times in the last ten years within a month of Carnival Day - coincidence?
I am therefore dreading this year's event. I will return to work knowing what fate awaits me. Maybe this year I will get lucky, it does happen occasionally.
I'm sure that you will be pleased to know that I found a new job within a month. So no harm done and it is much closer to home.
Ivy Isabel (Izzy) arrived in September and put poor Billy's nose totally out of joint at first. Not saying that he wasn't totally overjoyed at the prospect of a new baby sister but he cried when first told. Apparently babies eat toys.
Anyway we had a chat with him and pointed out the responsibilities of being a big brother. We thought he has got used to the idea until the day after she was born, he asked if we could have her adopted.
He could only just bear to be in the same room for the first week. Well it's a big change after being an only child for seven years.
Fortunately he has now come round and now she is smiling at him he adores her.
Then Billy and I sat down and did some research. We would like to share some of our findings with you:
Never trust a dog to watch your food.
When your Dad is mad and asks you, "Do I look stupid?" don't answer him.
Never tell your Mum her diet's not working.
Stay away from prunes.
Never pee on an electric fence.
When your Mum is mad at your Dad, don't let her brush your hair.
Never allow your three-year old sister in the same room as your homework.
Don't sneeze in front of Mum when you're eating crackers.
Puppies still have bad breath even after eating a tic-tac.
Never hold a dust buster and a cat at the same time.
You can't hide a piece of broccoli in a glass of milk.
Don't wear polka-dot underwear under white shorts.
If you want a kitten, start out by asking for a horse.
Felt markers are not good to use as lipstick.
Don't pick on your sister when she's holding a cricket bat.
When you get a bad report in school, show it to your Mum when she's on the phone.
Never try to baptize a cat.
'Play Dough' and 'microwave' should never be used in the same sentence.
Small pets and microwaves are a bad combination.
Crayons do not remain solid when stored on a car's dashboard on a hot summer day.
If your sister hits you, don't hit her back. They always catch the second person.
Never ask your 3-year-old brother to hold a tomato.
Bin-liners do not make good parachutes.
Always look in the oven before you turn it on.
Plastic toys do not like ovens.
The fire brigade has at least a 5-minute response time.
The spin cycle on the washing machine does not make earthworms dizzy.
It will, however, make cats dizzy.
Cats throw up twice their body weight when dizzy.
Don't flush the toilet when you dad's in the shower.
Never dare your little brother to paint the family car.
Never tell your little brother that you're not going to do what your Mum told you to do.
Never spit when on a roller coaster.
Sleep in your clothes so you'll be dressed in the morning.
When you want something expensive, ask your grandparents.
Never be smart with a teacher whose eyes and ears are twitching.
You should never take a goldfish for a walk, even on a lead.
Wear a hat when feeding seagulls.
A child will not spill on a dirty floor.
A young child is a noise with dirt on it.
An unbreakable toy is useful for breaking other toys.
Avenge yourself; live long enough to be a problem to your children.
Celibacy is not hereditary.
Familiarity breeds children.
For adult education, nothing beats children.
God invented mothers because he couldn't be everywhere at once.
God invented guilt so mothers could be everywhere at once.
Having children will turn you into your parents.
If you have trouble getting your children's attention, just sit down and look comfortable.
It now costs more to amuse a child than it once did to educate his father.
It rarely occurs to teenagers that the day will come when they'll know as little as their parents.
Never lend your car to anyone to whom you have given birth.
One child is often not enough, but two children can be far too many.
Never leave a toddler, a furry animal and a pair of scissors alone in the same room.
You can learn many things from children...like how much patience you have.
The first sign of maturity is the discovery that the volume knob also turns to the left.
There are three ways to get things done:

Do it yourself
Hire someone to do it
Forbid your kids from doing it

There would be fewer problems with children if they had to chop wood to keep the television set going.
Those who say they "sleep like a baby" haven't got one.
A good sense of humour will get you through most problems in life (unfortunately, mostly in retrospect).
The best thing to spend on your children is time.
---

Once again it has been brought to my attention that the inhabitants of the hamlet of Braintree have had difficulty interpreting my earlier allegories pertaining to my experiences at previous Braintree and Bocking Carnivals. For this I am deeply sorry and hope you can forgive these transgressions. To help alleviate any further misgivings and facilitate a more cohesive assimilation of future literate textual formation, the parental unit have invested in an expanded educational infrastructure for yours truly.

Hence, I have dispensed with the thee's and thou's, the appen and maybes and have hopefully written text that even you Southern Jessie Boys can understand.


However, it has turned out to be a rather fortuitous incident. Now she is older, she has turned out to be a jolly little thing (most of the time). I do occasionally have to stop her chewing my playthings. Hence we find ourselves with a fully laden automobile making our sojourn from Leeds to the leafy Hamlet of Braintree nestled in the Shire of Essex. The journey is uneventful save for a relaxing stop at a quaint little roadside Bistro by the name of Petite Cook. I enjoy a pleasant repast of chicken pieces and French-fried potatoes.
It is late of the hour when we arrive at our dwelling. Our hosts Grandpapa Mike and Grandmamma Janet warmly greet us on our arrival. After breakfasting we make our way to Meadowside where the weekend festivities are due to take place. Here members of a society who go by the name of The Braintree and Bocking Carnival Committee greet us. I have met many of these before and am aware that they can be quite pleasant providing they are unprovoked and well fed and watered.
Shortly after exiting our vehicle, I am involved in a rather unfortunate incident. During the greeting, I trip and my cranium becomes involved in a rather nasty collision with a trailer. This results in my head sustaining a rather nasty incision causing a degree of blood loss. I cry.
Grandpapa Robert was kind enough to conduct both my Mother and I to the recently renamed 'Broomfield Misfortune & Urgent Situation Care Centre' in his automobile. Apparently 'Accident and Emergency' upset some patients (now referred to as customers). I cry some more.
The Father and Baby Izzy stay behind to look after preparations.
After passing through the 'customer identification and classification' process I am seen by a Medical Technician. After careful analysis, my cranium is reaffixed with some adhesive. I cry a bit but not as much as before.
When the glue is set, Grandpapa Robert escorts us back to Meadowside. On our return we awake The Father and Baby Izzy from their slumber. The Father tries to maintain that he has been hard at work all morning and has only 'nodded off' moments before our arrival.
It is now lunchtime and we retire to a suitable establishment specialising in the serving of hot nourishing food. I partake in a splendid meal of chicken pieces and French-fried potatoes.
We spend the afternoon back on Meadowside were I play football and help look after Baby Izzy. She insists on eating the grass and gets quite irate when I prevent her.
Unfortunately, due to the earlier head incident I am unable to have any ablutions as I am under strict instructions not to get my hair wet. After a splendid nights rest we all awake fully refreshed. After another hearty breakfast provided by our hosts The Mother, the Father and Baby Izzy depart for Meadowside.
Grandpapa Mike has to work so I escort Grandmamma Janet to the shops. We spend a pleasant few hours perusing through the boutiques, shops and the simply marvellous local museum. Finally we decide to retire for a spot of lunch, as Grandmamma Janet is becoming weary. We find a pleasant little teashop, which rather fortuitously serves my favourite repast of chicken pieces and French-fried potatoes.
Friday evening calls for a return to the Meadowside for the annual Carnival Eve Barbeque. For those unacquainted with this ritual, it usually involves cousin Richard igniting some sausages and burgers.
Unfortunately our stay is regrettably short, as Izzy needs to retire to bed. I am once again unable to have any ablutions as I am still under strict instructions not to get my hair wet. I awake bright and early in preparation for another busy Carnival Day. The Father has done it again and has arisen before me and has already taken Baby Izzy to Meadowside. The Mother and I enjoy a nice peaceful relaxing breakfast.
The Father and Baby Izzy return to pick us up and change Izzy.
We return to Meadowside in time to partake in the annual breakfast feast. Unfortunately I forget to inform Auntie Lynn that I have previously partaken of such a meal and she insists that I divulge myself in some sausage and bacon.
With everyone fully breakfasted the work continues.
I am once again asked to lead the procession with Grandpapa Robert and Grandmamma Pat. Unfortunately despite The Father writing a letter to Mr Splatter, FIFA have mistakenly scheduled Team England to participate in a football fixture conflicting with the timing of the procession. However, despite this cataclysmic blunder the boulevards are still lined with thousands of happy citizens.
Glorious sunshine prevails and the afternoon is a blur of excitement and wonderment. I spend the afternoon with my friend Imogen. Regrettably our capital funds are soon depleted due to the excess of entertainments and attractions on offer.
The time hastens by and before we know it, it is time to start packing away. The Mother lets me stay until the fireworks, as Cousin Martin becomes fearful if I am not there to look after him.
The Father takes us home straight after the completion of the pyrotechnic display. The Mother and The Father are very tired but I do not comprehend why. Izzy and I are wide-awake and ready to do it all over again.
Richard and Corinne are very kind and invite us to their abode for a barbeque. I never miss an opportunity to watch Cousin Richard set light to some sausages. Regrettably we are unable to remain for very long as we are due to journey back to Leeds.
The Father is still very tired and once again we break off from our journey to take a break at a delightful little roadside stop. The experience is made more enjoyable as my favourite delicacy of chicken pieces and french-fried potatoes is on the menu. Back to school - By eck! I'm fair jiggered wit' all this faffin' aboot. Aye gets paid nay brass tha' knows but aye's not as green as cabbage lookin'. Look afta' thissen and tarra till next year.
2006 was a very problematic Carnival. For some inexplicable reason The Mother and The Father decided to further expand the family unit. Hence the arrival of baby Izzy on Saturday September 17th 2005. I initially made enquiries as to the possibility of having the newborn infant adopted. The parental unit disagreed with this suggestion and I was informed that we had to keep the insufferable diminutive sphere of resonance.