Billy has decided to no longer write his Blog because he is now 13 and far too busy at school. This is of course rubbish as I have seen him and he spends all day on his PS3.
This is good because it was rubbish and I don't think anyone actually read it. It was full of poor grammar and awful spelling. Therefore I am going to write it this year.
It also means that you get a nice picture of me and not his mug pasted all over the place (Mum would not let me write ugly).

Dad has told Billy that he does not have permission from school to go to the Carnival. He made him cover his head and be quiet as we left Leeds. Mum later admitted that he did have permission and it was just to keep him quiet.
Really quiet and stopped at OK Diner.
Sorted prizes at the Hut - Granddad cannot count and all the numbers were wrong. Dad got stroppy and called everyone names and made comments about Essex people not being able to count. Mum pointed out that Dad is from Essex. Dad sulked and it was very quiet for ages.
We did not go to bed until after 10:30. Billy snored all night - Mum not happy.

Up bright and early ready for work. I ate three bowls of Coco Pops for breakfast. I tried to order Billy 15 sausages but Dad would not let him have that many. He had two.
I went shopping with Auntie Lynn and little Olivia in the morning. We went to Sainsbury's to buy a cake and some balloons for tonight's BBQ and Jubilee Party.
I helped with Gazebos and Stalls this afternoon. I also helped make invites with Holly for a Jubilee Party this evening.
Went to the BBQ and played all night. We didn't get to bed until after 10:30. Billy snored all night - Mum not happy and slept in the car.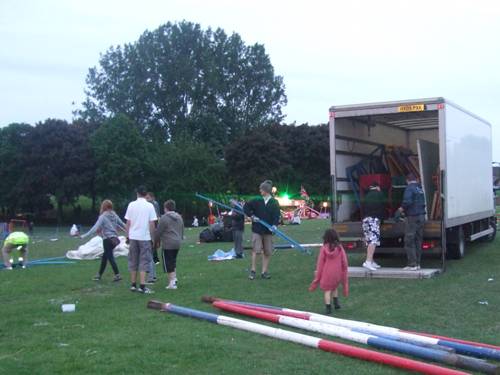 All up bright and early ready for work. I had three bowls of Coco Pops for my breakfast.
What a day - I rode in the car with Grandma and Granddad towing the Queen through the town. The whole world had turned out to wave at me.
Mum let Billy and I stay up and help pack away. We did not finish until midnight and then went back to Auntie Lynn's for a cup of tea.
After all the fun and excitement we didn't get to bed until 2.30am. Billy snored all night - Mum too tired to care.


At last we had a lie in. Dad was not well and was sick this morning - light weight.
We all helped Auntie Lynn count some of the money this afternoon.
Had a lovely Chinese meal for tea and Dad is feeling much better.
Dad is well happy as we do not have drive back to Leeds today. The Queen is really old and has been the Queen like forever. She is having a special Jubilee which is a kind of party where everyone stands around in the rain and wave a lot.

Bank Holiday. It rained.

Since I wrote this blog, the Queen has given my Granddad her M.B.E. This is very good but I'm not sure what one is but he did meet the Queen who was very nice.

Dad helped me with some of the bigger words as I haven't been at school very long so I'm not very good at some of the long words.