I've just been called in to see the headmaster. He's been reading me Blog and thinks it's very educational and I have to write more. However, I hate to tell him that it's actually me Dad that writs it. So now I'm not sure if this is me writing this or if it's me Dad pretending to be me. It's very difficult being a fictional character in literature especially if you are based on a real person.
Anyway he wants to read it out in assembly and I can go again this year as long as I keep working hard. It's a long boring journey and we played 'Eddie Stobart Spotting' on way down. We saw 16 in total but one only had a trailer and one only a cabin. We all discussed if this should only count as a half each. Therefore, we may have only seen 15.
Didn't get all of the names as some the lorries were on the other side of the road. However we did see the following:
Kylie Elise
Emily Amy
Rosemary Ann
Marion Karla
Florrie Marigold
Kevin Chloe
Dawn Krakatoa
I'm not sure about some of these, as I may have misread them. Dad suggested that I join the Spotters Club but that would be soooooo sad.
Spent the afternoon sorting out prizes. Me and Izzy played until Izzy fell over in the mud and I didn't even push her at all very hard.
Went to Grandma & Grandpa's for tea. Can't remember what we had but it might have been chicken nuggets and chips. We are stopping at a hotel as Grandma is still not well and no one else will put up with us. Well that's wot my Dad says.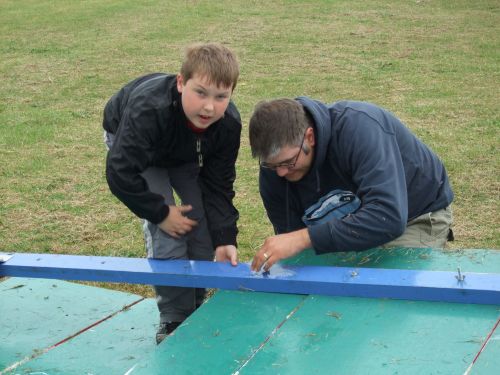 Nice breakfast at hotel as we can eat what we like. I order 15 bacon, 7 sausages, egg, beans, tomato mushroom and toast. Dad points out that I don't even like mushrooms and without me knowing changes my order.
Help put stalls up all morning. Izzy spends all morning just running around whilst I'm hard at work. Kids eh!
We have Fish 'n' Chips for dinner but then it starts raining very hard and we have to shelter most of the afternoon. Fortunately it brightens in the evening just in time for the BBQ.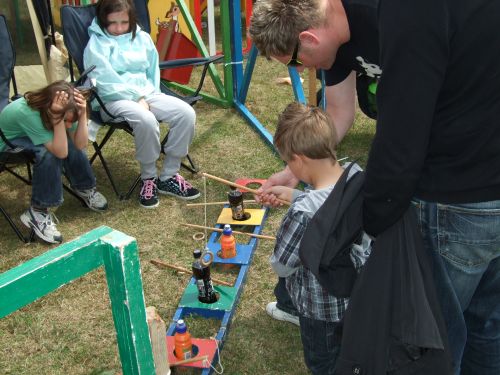 The big day. I try and order me huge breakfast again but Dad stops me. Busy morning moving things around and putting more things up that it was too wet to do yesterday.
I helps on loads of stalls including Ring-Bottle, Spinner, Bowling and Heroes. Bottle is great as all you have to do is put a ring on a bottle. I think this is how it got its name. It looks easy but it ain't and it took some people 15 minutes. Uncle Keith's a big show-off and can to it in 5 seconds.
I won my usual list of prizes on Heroes which is my favourite stall. Dad didn't give me enough money though and I couldn't afford to go on many rides.
Josh was playing in a rock band on the stage this evening. Josh is my Dads nephews' step-daughters boyfriend. He might be famous one day so I got his autograph just in case.
Finally at 10:30 Dad lets Granddad take Izzy, Mum and me home. I'm shattered. I wake up with a blinding headache. Go back to bed.
It was very wet this morning so there's no BBQ at cousin Richards as their back garden is too wet. Help Mum and Dad count stock until Izzy falls in the mud again (I might have pushed her a little bit this time but don't tell Mum).
We have to leave mid afternoon to get back to Leeds. Played Eye-Spy with Izzy but she keeps getting her letters wrong and thinks everything begins with B. Then she wanted to play Hide 'n' Seek but surprisingly we soon run out of places to hide. Back to school today and Headmaster will want to hear what I've been up to and I can't remember anything. Although the events depicted in my Blog are based on real events some of the specific details have been changed for dramatic effect or to protect individual's privacy.
Please note that the movie rights are still available but there have been a couple of interested parties so you had better be quick.