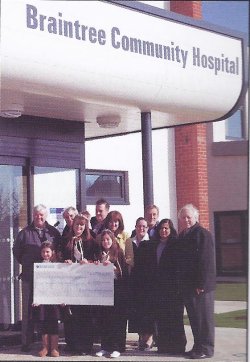 The Friends of Braintree Community Hospital were formed to support the new hospital when it opened in the Spring 2010. The Carnival Committee are pleased and excited to be able to support the group with a cheque for £1500 to help the Friends with this new venture.
Carnival Committee Chairman, Martin Green, who was accompanied by his four month old daughter Olivia, said "This is real progress for the town and we are pleased to have contributed right at the onset, it was a good project for us as it will help all age groups in the town". We hope everyone will come along to this year's Carnival on June 12th to support our next project.
Carnival Queen Rebekah Scrase and Princesses Rebecca Patten and Chloe Guppy are seen in the photograph with members of the Carnival Committee presenting the cheque to Chris Green (Chairperson) and members of the Friends of Braintree Community Hospital outside the new hospital building in Rayne Road.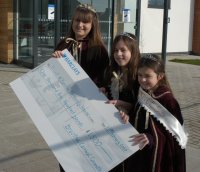 Receiving the cheque reflecting the public response to the 2009 Carnival, Professor Chris Green expressed the gratitude of the Friends Committee at the Carnival Committee and outlined the way in which the gift will be used including the opening of a shop within the entrance foyer of the new hospital serving the hospital community, as well as volunteer work to be undertaking in meeting and greeting visitors, and outreach.